Our History - 50 Years Experience
PAP-R Products company was founded by Harry A. Glynn in 1947 in the small town of Martinsville, Illinois, making its first coin wrappers in a chicken coop behind the old Martinsville Planet building. The first machine was hand built, starting a unique tradition of in-house machine design and assembly that runs to this day.

In the years following its inception, the fledgling PAP-R Products company grew and the need for space grew with it. Over the next 36 years, 42 additions were made to the original building growing the overall building size to a winding 30,000 sq.ft.

Throughout these years, Harry Glynn focused on producing a quality, consistent product offered with exceptional service to his customers. Rather than grow at an explosive pace, he chose a slower, more constrained growth rate that would allow him to focus on his ideals for providing a high level of service and quality.

In the mid 1980s Harry Glynn retired leaving the helm of the company to C.D. Hammond who served as President until 1994. In 1994, Scott Ware, grandson to Harry Glynn, became President of PAP-R Products company and continues to this day. Thus far into his tenure at PAP-R Products, he has focused on growth at a pace that would allow the core strengths of service and quality to continue to shine.

PAP-R Products main plant remained at its original location in downtown Martinsville until 1995 when a new facility was completed north of town. The new manufacturing facility increased available space two-fold with 62,000 sq. feet open for offices, manufacturing, and warehousing.

With this new space, PAP-R products was able to rapidly grow without compromising its history of quality product and excellent service. The level of growth was such to require an addition to the new manufacturing facility in 1999, adding another 20,000 sq. feet of production and warehousing space.

Today, PAP-R Products stands as the premier manufacturer of coin wrappers, currency bands, and napkin bands. Our products are manufactured for customers in all 50 states as well as much of Latin America, Canada, and several European countries. PAP-R Products continues its tradition of high-quality products and exceptional customer service and will do so for years to come.


​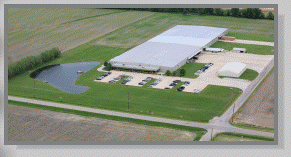 PAP-R Products Co.
PO Box N
1 Harry Glynn Drive
Martinsville, IL 62442
Phone: (800) 637-4937
Fax: (217) 382-4242